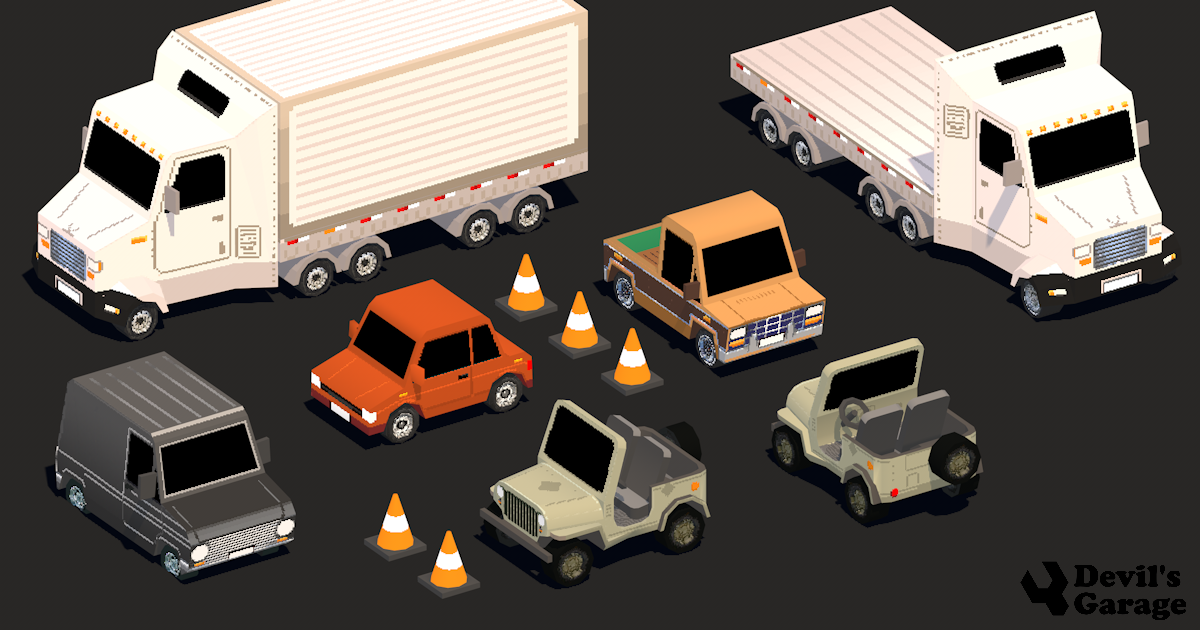 Low Poly Pixel3d Vehicles - Devils Work.shop
A downloadable asset pack
The Devil's Work.shop Low poly Pixel art 3D asset pack contains 5 vehicles. Each vehicle is cleanly modeled, textured, unwrapped, and UV mapped. Some vehicles like the flatbed truck have vehicle separation so the container detaches. All the vehicles have separate wheels so that they can be programmed with vehicle controls or physics. The mesh and texture are very small and can be used in car / vehicle game.
If you are looking for the unity build of this project you can grab it for cheap over at the unity store too https://www.assetstore.unity3d.com/#!/content/104162
3D Model Specifications
Geometry: Polygon
Textures: Yes
Materials: Yes
UV Mapped: Yes
Unwrapped UVs: Yes
Formats - .FBX
Texture Format: PNG
Texture Size: 256x256
UV Information in Texture: Yes
Maps: Diffuse (Color)
Mobile Ready: Yes
Tried and Tested in: Unity 2017
Frequently Bought Together
Best Deal
Features
Free periodic updates
Available on itch.io store and Unity Asset Store
Very clean models/mesh
Please leave a review, If you like these assets or have a specific art asset need.
Cheers!
Note: We have dropped support for Roblox based projects

Purchase
In order to download this asset pack you must purchase it at or above the minimum price of $3.50 USD. You will get access to the following files:
Pixel3D_Vehicles_DevilsGarage_v01.zip
162 kB
Comments
Log in with itch.io to leave a comment.
Alaikum Assalam to you GameChef. Id definitely consider this. Can you give me more information about this co-op bundle? Things like - What do you intend to get out of this co-op? who are you teaming up with, what is the commission splits?
Ill join you guys on the next one! Keep me posted thanks
I really like these and purchased them, but I can't convert them to .dae ... All the converters tell me there is something wrong with the files... Could you include the Colldae files by any chance?
Thanks for purchasing this Vehicle Asset Pack. I shall definitely do that! I have managed to export a set of .DAE files for the truck, but need to test this a bit more. Can you do me a favor and download this zip file https://send.firefox.com/download/5626b6a0bf639124/#I7fSF7gAx7kYNvf9vTspJA and tell me if it work
BTW which framework/engine are you using to import these .DAE files? I might have to get a copy to further test all those exported files
Hello Devil,
thank you for helping me! I just tried to download the file from the link, but I guess I took to long as It wasn't t available anymore...
I use SceneKit btw.
Is there any chance for a low poly train pack? I love your work and would love to see more!
Hey Harrk,
Glad you like these assets! Ah, I've been working on and off on this theme. If you are interested in seeing / testing some early development assets - shoot me a message at -
hello(at)devilswork(dot)shop
:)
Sent an email over. I'd love to see what you have in progress! Keep up your awesome work :D